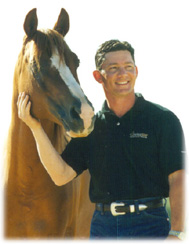 Tony Craig with Miska Tre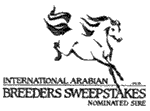 *Witez II Owner's Network
Miska Tre
Aladdinn's Goal X Tia Roja(Preservation Mare)
Pedigree

Miska Tre is a IAHA Sweepstakes nominated sire and the resident stallion at the Arabian Star Equestrian Center, who was foaled on Fourth of July 1985 at Arabian Star. Miska is a *Witez II great grandson. Miska has two get at Arabian Star, Duma and Lippa Zena, both of which can be shown upon request.

Miska is owned by Tony Craig, who first began working with Miska and both have enjoyed performing in western pleasure classes throughout the Region III and the California show circuit for the first few of Miska's schooling years.

Miska is a hardworking, versatile horse with a noticeably soft and patient disposition. Miska has passed these traits to his get, making them quick learners, and amazingly pleasant horses to work with.